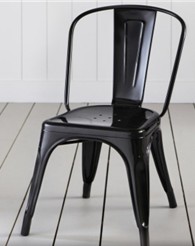 Metal Outdoor Furniture
in its many shapes and designs can be a wonderful addition to your outdoor living space.
And Metal is fashioned into furniture in one of three main ways: extrusion, casting, and welding.

Extrusion forces melted metal through long pipes and forms long narrow tubes of metal, sometimes solid, but often hollow.
Casting metal involves a form, or cast, shaped like the finished product. The molten metal is poured into the form and then the form is removed when the metal has solidified. Cast pieces are almost always solid.

Forging, a process in which metal is heated and hammered into shape produces the type of furniture known as "wrought" metal. It uses pipes and various solid pieces of the metal and joins them together by welding or bolting.

If you're looking at modern
Metal Furniture
, be sure the product is either stainless or powder-coated and that any hardware used is also rust-resistant.